The scarf beef or battle or whatever you want to call it between the Raptors center Serge 'I do art' Ibaka and forward OG 'what about scarves' Anunoby got dialed up to 11. If you haven't yet seen the start of the epic argument, check it out below. The gist of it is Ibaka wants to help the younger Anunoby improve his fashion game. Anunoby is having none of it, claiming he put Ibaka on to fashion. Serge respectively disagrees because as we learned in an earlier Avec Classe video, he doesn't do fashion, he does art.
What resulted was Anunoby telling Ibaka he put him on to scarves. Nevermind that Toronto is a very cold city requiring anyone to wear scarves on a regular basis in winter. Ibaka is shocked and OG continues to ask 'What about scarves?'. Apparently, OG wore a scarf that Serge liked and later purchased and wore.
After their initial 'debate', Ibaka and Anunoby had a 'scarf off'. I'll let you decide who won. I'm a fan of Ibaka's oversized scarf. I imagine wrapping it around me after I take my coat off at a coffee shop or restaurant. The constant opening and closing of the door in winter is always an issue and I hate to work or eat with my coat on. This is a scarf for people who are tired of getting cold while they write social media posts and drink americanos. That being said OG's extra-long Burberry or Burberry-esque scarf might be more practical. Serge seemed to have trouble wielding the thick blanket-like beauty when he had to swipe his key card into the locker room.
The rest of the team couldn't be left out. Ibaka gifted them with oversized extra-stylish scarves from a brand called Nobis. There is Instagram evidence. We are left to wonder how long before every guy in Toronto under the age of 35 is rockin' one of these bad boys.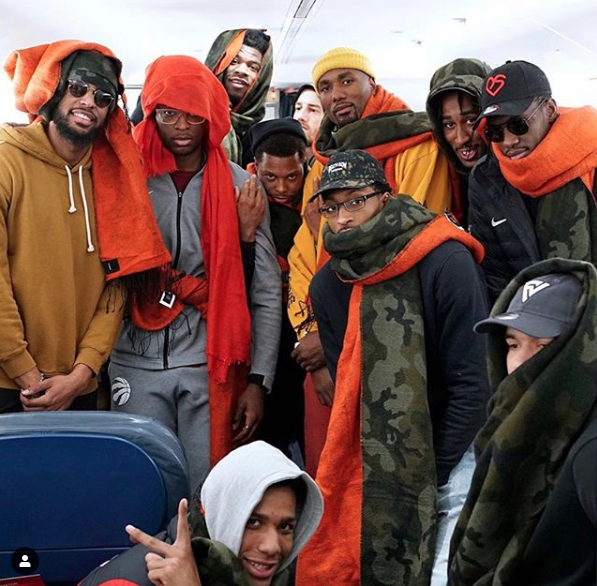 Jokes aside, it's refreshing to see men having fun with fashion. Imaginative dressing has long been left to women. Worse than dressing badly, the style employed by the average guy can be just plain boring. Growing up in the mid-west, I was used to seeing the men around me in very plain t-shirts and baggy jeans or khakis. That was a big part of hip-hop and grunge fashion in the '90s. To be honest I'm not even sure what was going on in the early '00s.
When I see athletes having fun with clothes, doing art with fashion, I love it. Bring on the big scarves and bright patterns. I want it to trickle down. Let's see more men on the street, in our offices, being creative with clothes. I want to see everyone with #BigScarfEnergy.